Meet Emily and Zach! These two boilermakers have been together for a long time – They are high school sweet hearts! Capturing their engagement on such a beautiful campus was awesome. There are just so many special places to photograph! We are so excited to share a little bit about these two and their Purdue University Engagement. Here are all the sweet details…
We captured Zach's sister Olivia's wedding a couple of years ago (CLICK ME). He was also the best man in Katie and Logan's wedding that we captured last year! See if you can spot him in some photos! We are looking forward to seeing Zach's family again and working with such a great group of people!
We started at Purdue's famous Bell Tower, then headed over to the famous Engineering Fountain. We got some epic photos of the blue sky with these Purdue hotspots. At these locations, Emily wore a long sleeve white top, light blue distressed high waisted jeans, and brown sandals, while Zach wore a denim shirt, green pants, and white sneakers – The two outfits complimented each other nicely and made for some awesome photos! After a quick outfit change into a beautiful yellow jump suit and jeans and a black shirt, Emily and Zach were ready for some more photos!
We took pictures on the steps of one of Purdue's many beautiful buildings on campus and captured Emily and Zach in some gardens near by. Everything about this session was natural, fun, and felt like we were just watching two people fall in love. Emily and Zach were very modelesque and natural during their entire session, and it shows in the photos! Of course, we just HAD to take pictures with the famous Purdue University sign. Did you even go to Purdue if you don't have a picture with this sign? Nope! It's pretty iconic.
After this, we headed over to Emily's dorm (which gave us MAJOR Harry Potter vibes) where they changed into their last outfit. Emily changed into a beautiful flowy sage green dress and Zach changed into a white button down shirt. We went to an open field near by to capture them with the sunset – and WOW what a sunset we had. The skies changed from orange and yellow to purple and blue and every color in between. It was a beautiful night!
Emily and Zach will be getting married next year at the White Rose in Decatur Indiana. You may remember this beautiful venue from a styled shoot we did last winter. If you'd like to see this gorgeous venue, click here (CLICK ME)! We loved capturing this Purdue University Engagmenet and we could not be more excited for their wedding next year. Until then, happy planning!
Cheers,
– Dustin & Corynn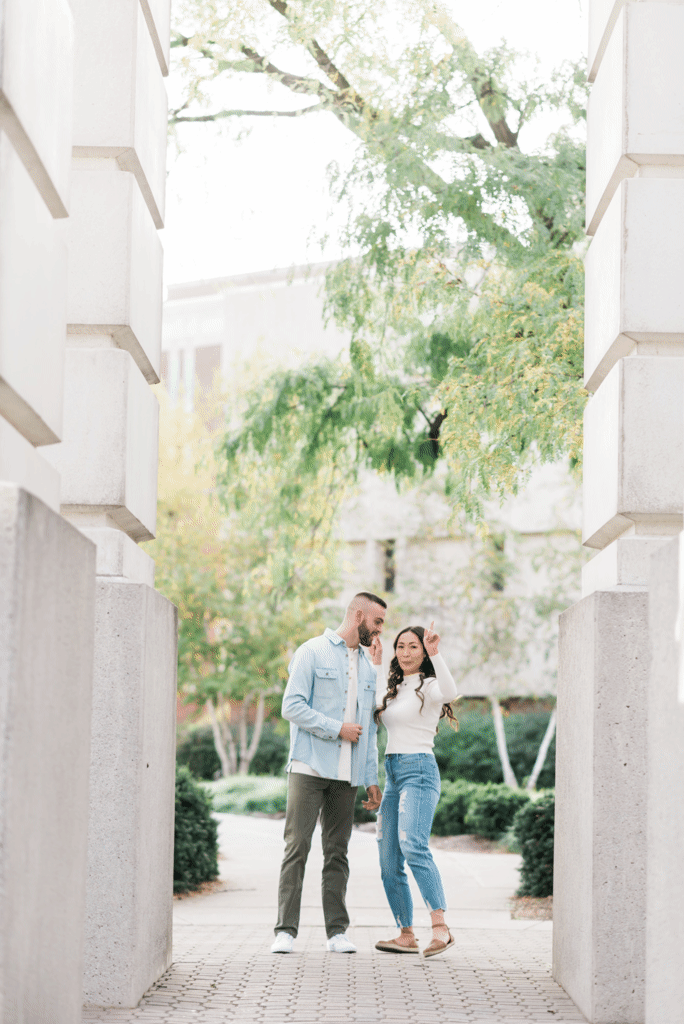 The iconic Purdue university sign! We just had to take a photo with it!

See what we mean? Harry Potter vibes all over!

How dreamy are these? Emily and Zach had so much chemistry – It was all just so natural and easy with these two.

If you'd like to see some of our other engagement sessions, click the names below!