Jenna and Wesley's wedding was so much fun! If you didn't already know, we know Wesley from high school. If you'd like to learn more about this sweet couple (how they met, how we know them, and how their engagement session went), read this blog (CLICK ME)! You can also look at their engagement photos and see how adorable they are. As we were saying, this Carmel wedding was awesome. The families, the joining of these two awesome people, the sweet Mustang, and fun wedding party. Here's some highlights and details from Jenna and Wesley's big day…
Their day started at the beautiful Cornerstone Lutheran Church. This church is super important to them – They met and started a young adults bible study together there. How cool is that? Jenna and her bridesmaids wore comfy robes all morning while they got ready for the day. After their hair and makeup was done, it was time for Jenna to put on her dress! All of Jenna's bridesmaids gathered around her while her maid of honor helped her into the dress. Jenna's bridesmaids wore all different styles of navy dresses, all paired with sparkly jewelry! Hair? Check. Makeup? Check. Dress? Check! Once they were all ready and before Jenna and Wesley's first look, we took the girls outside the church for some photos together. This is where Jenna added all of her final details – jewelry, shoes, and garter!
After Wesley and his groomsmen were ready, he and Jenna had their first look in the sanctuary where they would be married in just a little bit! After exchanging small gifts, Jenna had one more surprise for Wesley. She handed him some keys (see the moment in the photos below) to a super slick, silver convertible GT Mustang. It. Was. Awesome. Needless to say, Wesley loved the surprise. After relaxing for a little bit, it was ceremony time!
This ceremony was especially cool because three of Jenna and Wesley's family members were involved in it. Wesley's own dad married them – how cool! One by one, bridesmaids walked down the aisle as well as some super sweet flower girls (also wearing little navy dresses). After everyone was in place, Jenna and her dad walked down the aisle. Meeting eyes, Jenna and Wesley were so, so excited! After saying some super sweet vows and exchanging rings, these two kissed and we're married! They smiled ear to ear the whole way down the aisle. After the ceremony, they hugged and thanked every one of their guests and family. It was an awesome time. After greeting guests, everyone headed outside to send the couple off… in that awesome mustang.
After driving off, they came back to the church for some photos. We headed inside for some family portraits, but when it came time to capture the wedding party, we headed outside! We took some awesome photos of the wedding party and of the newlyweds – It was a blast! We started at the church then finished off portrait time at some old silos. After photos, it was time for the reception!
The reception was at the beautiful Palomino Ballroom. This venue offered an awesome dance floor, lots of natural light, and plenty of space to entertain guests. The bridal party made their entrance, found their seats, and then it was time to cut the cake! Dinner was served, toasts were said, and there was a lot of dancing – including an awesome dancing train led by the bride herself! After dancing and celebrating with their friends and family, these two had an awesome glow stick exit. As they took off in that sweet mustang, everyone cheered and waved. It was an epic and memorable day with a lot of really awesome people. This Carmel wedding was a blast to photograph! Thanks for letting us be a part of your wedding day – Best of luck to the newlyweds!
Cheers,
– Dustin & Corynn
First look and some SWEET gift exchanges.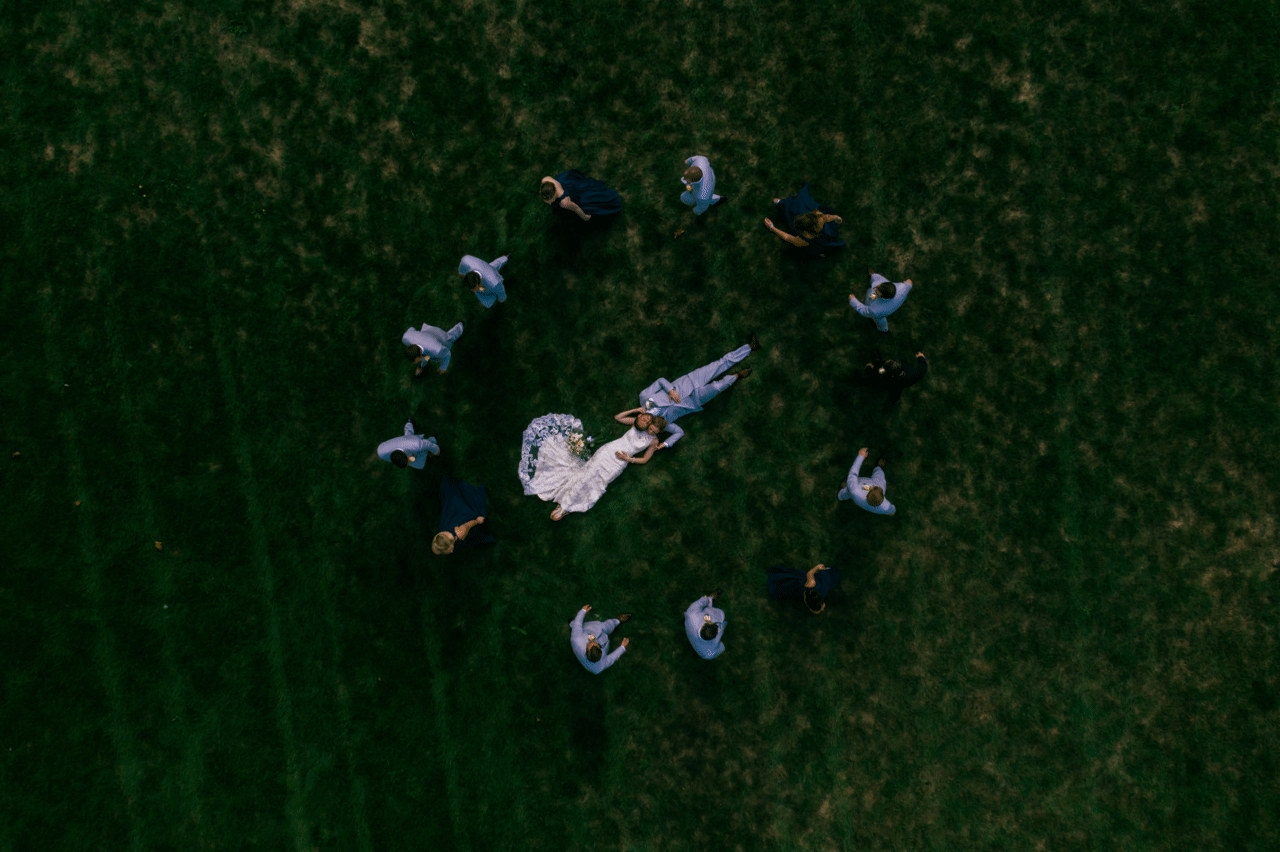 If you'd like to see more of our weddings, click the names below!