Meet Rachel and Patrick! These two adorable people will be getting married this summer in the great city of Indianapolis. We love going into the city, especially for weddings, so we are really looking forward to capturing their wedding day in such a beautiful place! Follow along to learn about Rachel and Patrick's relationship and see our favorite photos from this sweet Lake James engagement session.
Patrick and Rachel plan to live in Fort Wayne (our awesome home town). Patrick is starting his medical career and Rachel is a teacher. We loved getting to hear about their wedding, their plans, and more during their session with us – It's the best part of our job. Rachel, as you can see from the photos below, is just as cute as a button! Patrick had the most relaxed and easy going vibe, so these two were the best to work with. They were up for anything, even climbing way up in a tree during their session!
We got to explore the beautiful Pokagon State Park with these two! When we were planning the session, Rachel told us that she thought that it would be really fun to do it at Patrick's family lake cottage on Lake James. We loved that idea and knew it was close to Pokagon, so we went to the Potawatomi Inn for variety! After exploring Pokagon with Rachel and Patrick, we headed to their family lake cottage for sunset photos.
We took photos in an adorable canoe out over the water – Check out some of the drone pictures we got (pictured below)! Afterwards, Patrick insisted that they do some photos in their matching Star Wars bathing suits – They were so cute. Of course, we had to end the night with a jumping off the dock shot! Check out those gifs!
We are super excited to share this adorable engagement session. We're even more excited to capture their beautiful wedding day later this summer. We hope you all loved reading about this sweet Lake James engagement session! To Rachel and Patrick, happy planning – We'll see you guys soon!
Cheers,
– Dustin & Corynn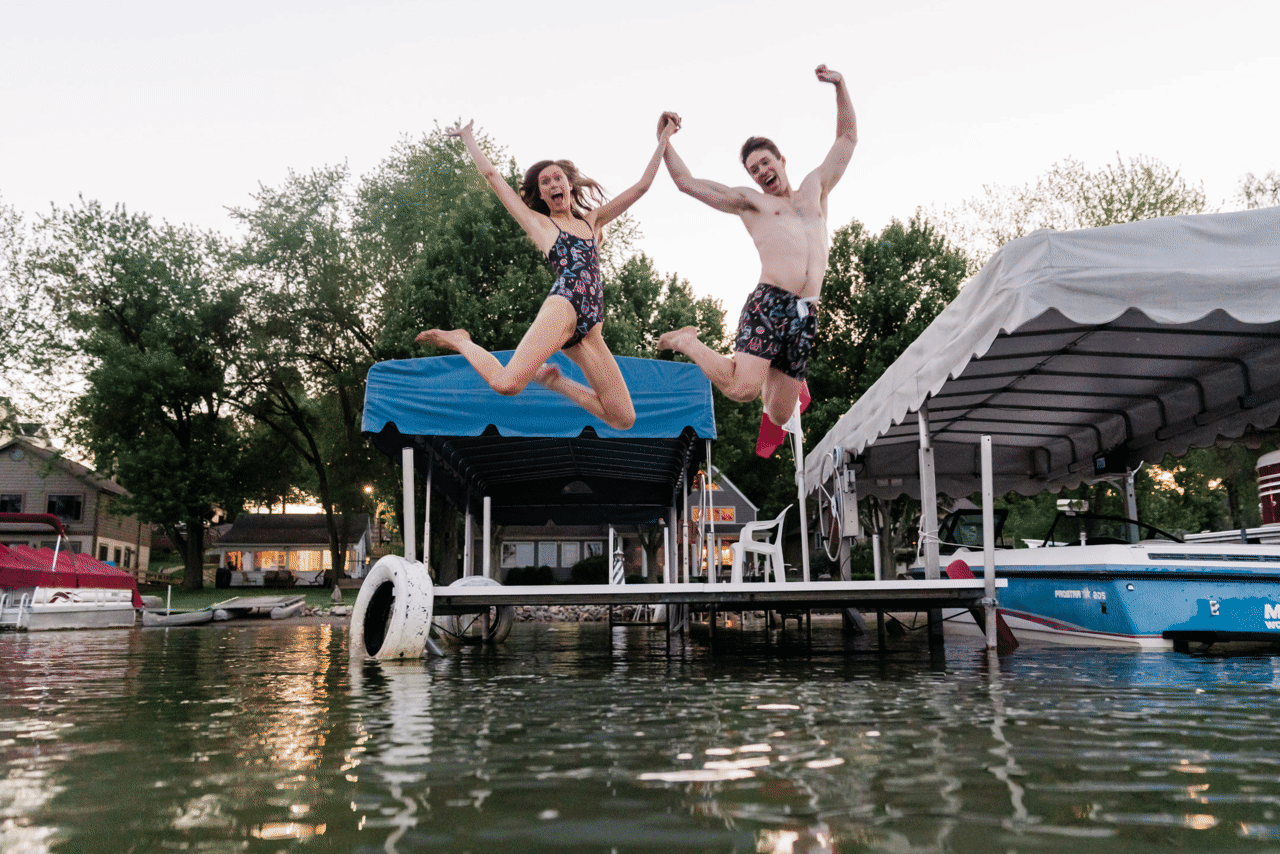 Check out some of our other couples, weddings, and family blogs here (CLICK ME)!