Sophia & Brenden are married! These two were originally planning their wedding for 2021. As they were planning, they decided to move their wedding to 2020 thinking "why wait?". Well, then the pandemic hit and things got a little crazy. Luckily for Sophia and Brenden and their awesome families, these two were still able to get married and have a super sweet wedding day full of family and love. Read along for more details about this Allen County Coliseum wedding and see some of our favorite photos!
The day started at County Line Church, Sophia & Brenden's home church, in Auburn Indiana. Sophia and her awesome group of bridesmaids got ready together while wearing matching custom monogrammed pink robes! After everyone's hair and makeup was complete, all of the bridesmaids got dressed. Sophia's beautiful dress was from the amazing One Fine Day Bridal and Gown Boutique in Fort Wayne. Sophia's mom and sister helped her into the dress and helped with final details of the jewelry and veil.  After some sweet bridal portraits, it was time for Sophia to have a first look with her dad and brother! After these sweet moments with family, it was only appropriate to grab some family photos and bridal party portraits too. Sophia got to have a moment with her Grandpa too before the ceremony which was so heartwarming!! After spending some time capturing Sophia in the morning, we took some photos of Brenden in another part of the church. We used the time prior to the ceremony to get some photos of his family and groomsmen! Before we knew it, it was ceremony time! Did we mention the flowers by Rose's Bouquets!
Guests found their seats and family began to walk down the aisle towards the front. Next, pairs of bridesmaids and groomsmen made their way down the aisle and up onto the stage. After the sweet flower girl's stellar performance of tossing rose petals, Sophia and her dad walked down the aisle towards Brenden and their pastor. Sophia and Brenden did a foot washing ceremony to represent their new service in their marriage, exchanged vows and promises, then kissed! Sophia and Brenden were officially husband and wife!
After the ceremony, guests and family met outside under the covered entrance of the church where hugs and hellos were exchanged. After some fun family photos, we captured the full wedding party, then headed to the First Assembly of God for more photos. Sophia loved the idea of taking photos with the ivy-covered walkway there. After some portraits of the newlyweds there, we all took a trolley ride over to Johny Appleseed Park for a few more photos, then it was time for the reception!
Sophia and Brendon's reception was held at the awesome Allen County War Memorial Coliseum. The spacious room gave guests plenty of space to be safe during this time! After everyone found their seats, Sophia's dad gave an awesome and very sweet toast. As parents now, we get pretty choked up when there are sweet/emotional parent/kid moments – We know that'll be us someday! The rest of the evening was full of dancing and celebrating and so many laughs.
It was such an honor to capture this sweet couple's wedding! Sophia and Brenden were such a happy and easy-going couple. We loved capturing their Allen County Coliseum wedding and loved getting to know them through the planning process even more. We hope you guys love your wedding photos for years to come! Thanks for trusting us to capture your most special day and including us in all the fun. Love you guys!
Cheers,
– Dustin and Corynn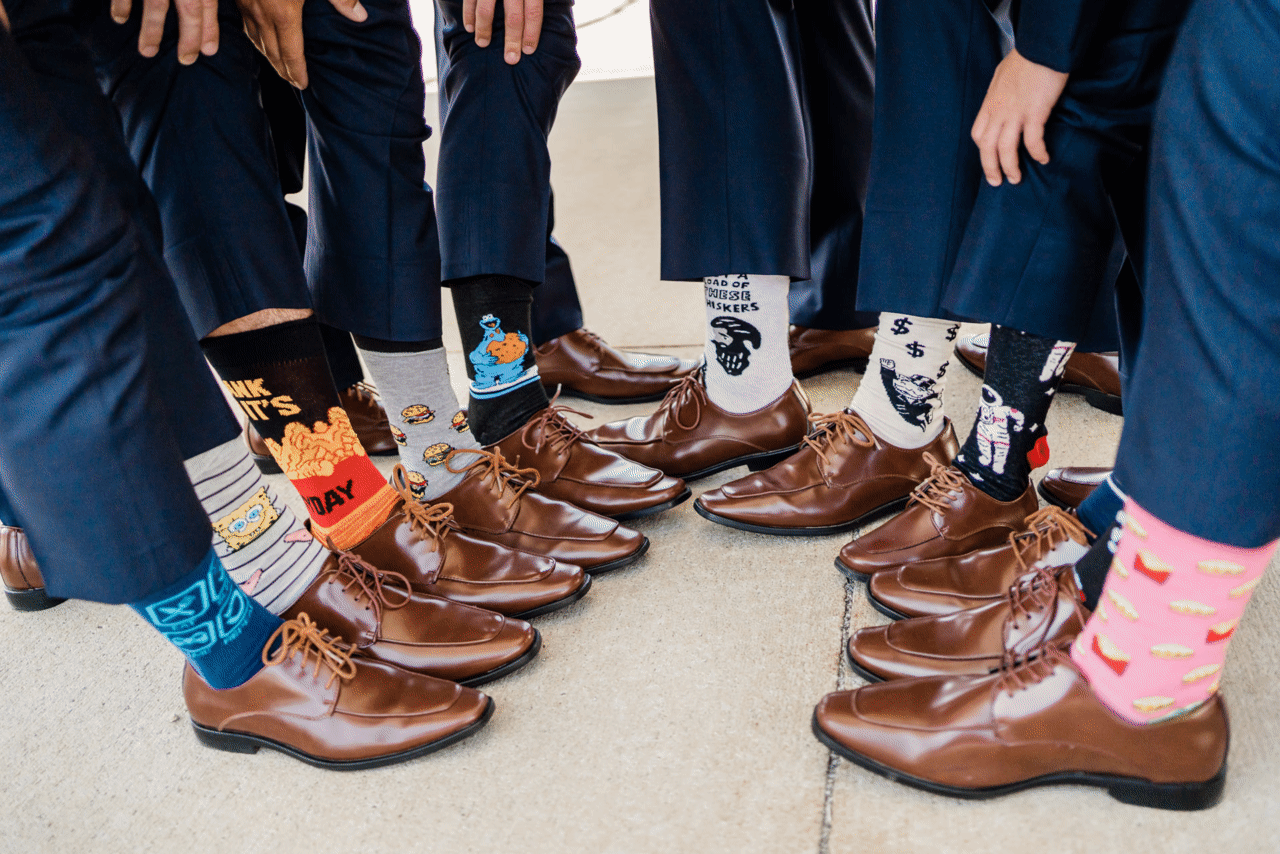 If you'd like to check out some of our other awesome couples, click here (CLICK ME)!