Meet Maria and Kevin! We met these two at the Grand Wayne center in downtown Fort Wayne. It was cold, but really snowy. These two really wanted snowy engagement photos so we were so thankful that Fort Wayne got some. Come read along with us as we share some of our favorite photos from this snowy downtown engagement session…
We met Maria quite a few years ago when we captured her sister's wedding! Christina and Ben and their families were awesome to work with, so we are so excited to see them again at Maria and Kevin's wedding (Click HERE to see their wedding photos). Any time that we get to see our past couples and see how their marriage has grown, it's a great reminder to us about how awesome our job is. The Grand Wayne Center is an awesome location for photos. Maria wore a sparkly strapless blush colored dress while Kevin wore a sharp black suit – They looked amazing! After getting some photos inside the Grand Wayne, these two bared the cold, snowy weather with us for some photos outside. Luckily, Maria had a cover up to wear to stay warm!
Since we were downtown, we walked over to the Cathedral down the street for some portraits. They will be getting married there in June, so we thought it would be fun to capture their engagement there as well. The botanical conservatory gardens were right across the street, so we headed inside for photos and warmth! While at the gardens, these two changed into something more cozy. Maria changed into jeans, black boots, and pink sweater and Kevin changed into a navy quarter zip sweater and jeans. We headed outside the gardens for some more photos in the snow, then called it a day!
We were so excited to capture these two's snowy downtown engagement, but we are even more excited to capture their Fort Wayne Country Club wedding this June. We hope the rest of your wedding planning goes smoothly. See you in June!
Cheers,
– Dustin & Corynn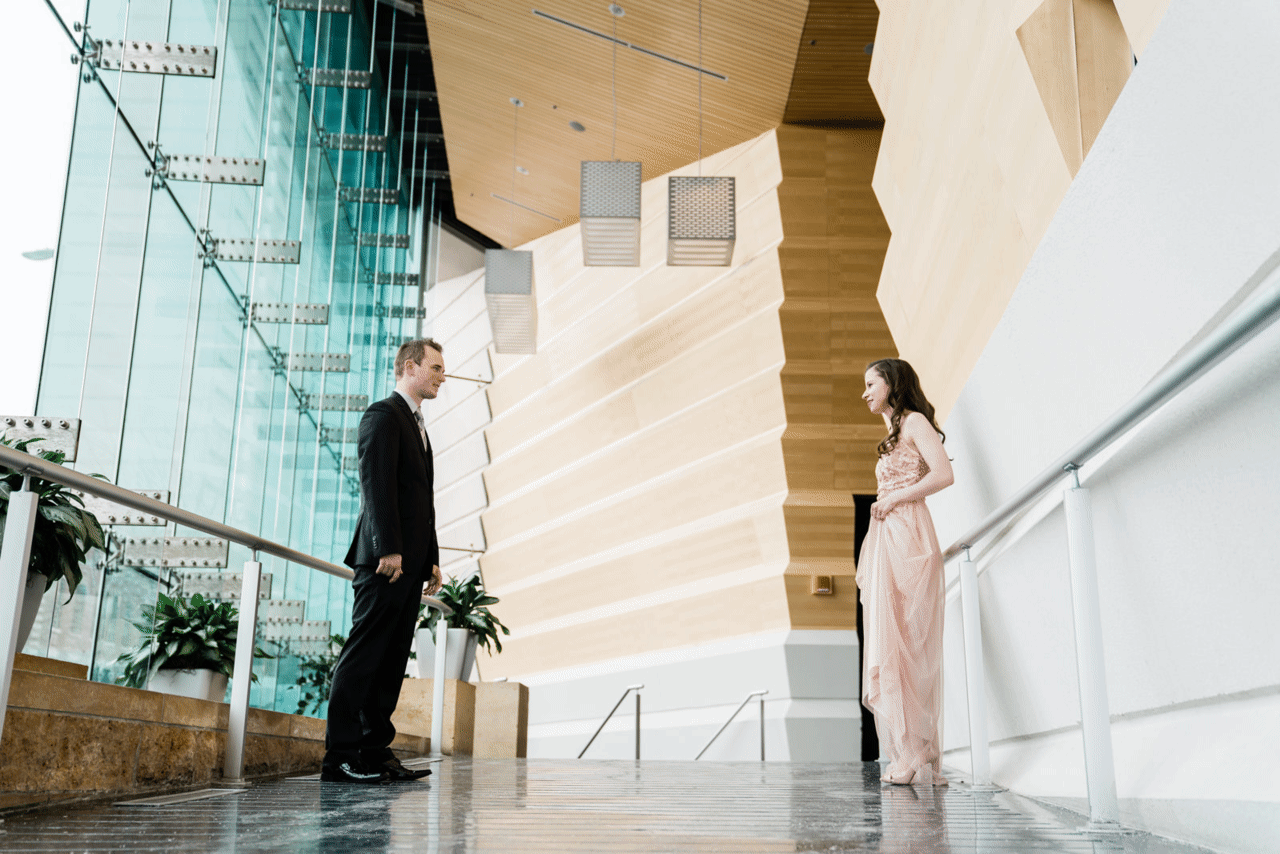 Click the names below to check out some of our other couples!
Beth & Ryan – Fort Wayne Winter Wedding at Purdue University Fort Wayne
Stacey & Josh – Downtown Winter Wedding at Allen County Courthouse
Marisa & Ryan – Empyrean Wedding in Downtown Fort Wayne