Remember Sara and Austin from their fall Metea Park session? Well if not, you have to go read about the awesome time we had with them before you read about their wedding. Click here to see those pictures and learn a little more about them. This Union 12 wedding was just beautiful! Sara and Austin made their day so special for everyone involved. Please read about this sweet couple and their fun wedding day!
Sarah and Austin's day started at the getting ready home on Union 12's bridal. This wedding party suite is equipped with large spaces for getting ready, natural light, and beautiful decor fit for any couple on their wedding day! It's even divided, so both the bride and groom get their own getting ready spaces. Wedding days are simplified so much when the getting ready, the ceremony, and the reception are all in inebriate location. Union 12 has it all!
Once Sara and her bridesmaids had their hair and makeup done, the bridesmaids got dressed. Their dresses were all different styles, but all matching in a beautiful medium blue color. Sara's mom helped Sara into her dress while she was surrounded by her bridesmaids. Sara's dress is from Fort Wayne's own One Fine Day, a Bridal bouquet fit for a princess! Her wedding dress was absolutely beautiful! Once the dress was on, it was time for jewelry and final touch ups. Now, while Sara and her bridesmaids were getting their wedding day glam, Austin and his groomsmen were tossing around a football outside – In true gentleman style of course. After relaxing for a bit, the guys all headed inside to get ready.
A little bit before the ceremony, Sara had a super sweet first look with her dad. They did it in the same spot where he would later give her away! Of course, it was an emotional and sweet moment for the two of them to share.
Ceremony time! Our favorite part of the wedding day, hands down. One by one, family, bridesmaids, and groomsmen walked down the aisle to their seats and positions. Next, the flower girl. Once everyone was in place, Sara walked down the aisle wearing the biggest smile, arm-in-arm with her dad. Austin was clearly the happiest man alive in that moment! These two exchanged vows, rings, laughs, and of course, a mega awesome kiss! They cheered and celebrated all down the aisle, as did everyone else. It was simply awesome.
After the ceremony, we took some family portraits over looking the beautiful property of Union 12. From there, we took Sara, Austin, and the wedding party over by the pond on the property for some group photos. Before heading inside to the reception, we wanted to capture some portraits of just the newlyweds.
Toasts were said, cake was cut, and dances were danced. After Sara and her dad's dance, she turned the dance floor over to her dad and sister. Sara's sister never danced with her dad at her wedding, so Sara wanted to do something really special for her. Towards the end of the dance, all of her sister's kids joined in too. It was such a sweet moment for this awesome family. After all of this, the party started!
We pulled Sara and Austin outside for some sunset photos near the end of the evening just before the sun went down – Golden hour never looked so good! These two celebrated their marriage with their friends and family, dancing and singing along to the DJ all evening long. This Union 12 Wedding was such a blast to photograph. We hope you cherish your wedding day photos for years to come. Best of luck to the newlyweds! It has been a pleasure getting to know you two.
Cheers,
– Dustin & Corynn
Cheers! The groomsmen saying "cheers" to a beautiful day of football… oh, and a wedding!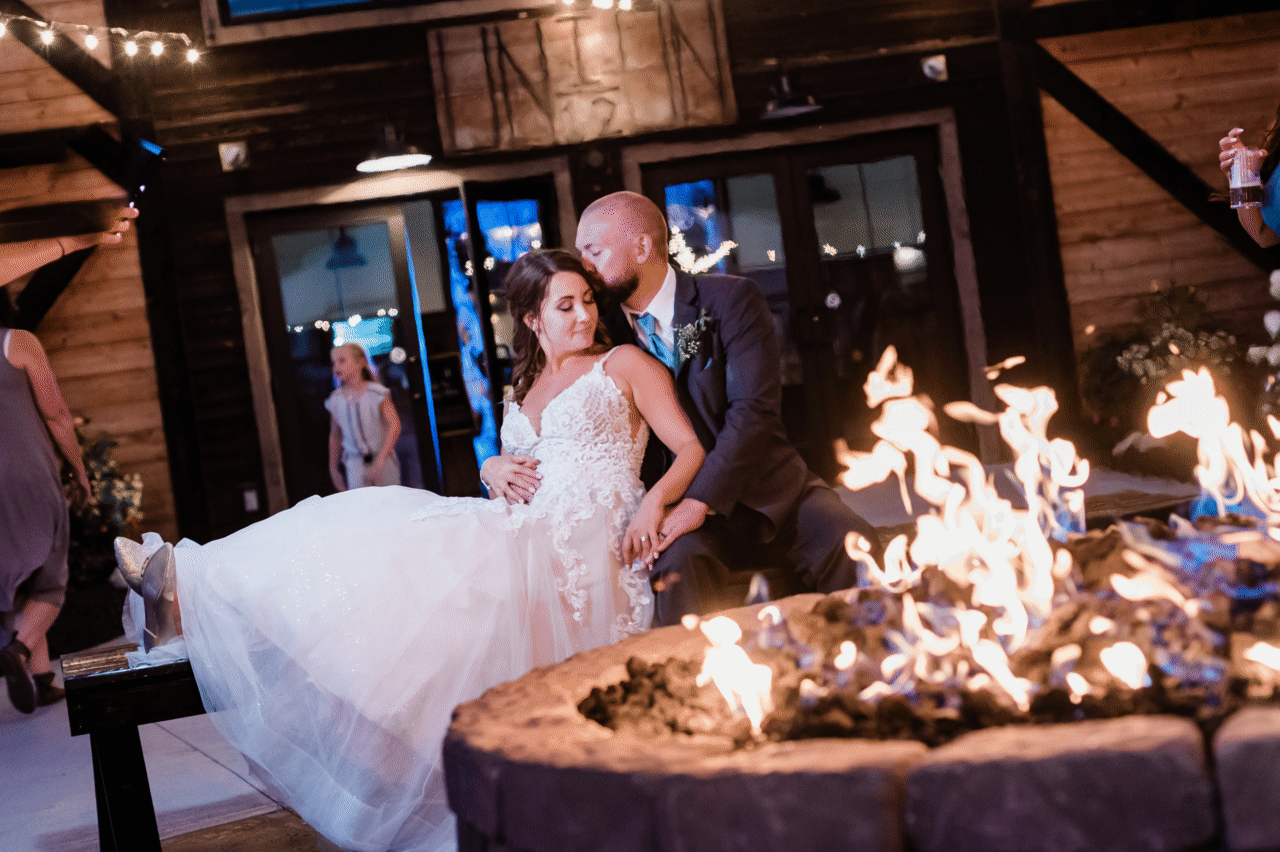 Check out some of our other weddings here…