Kayleen and Rob are married! You may remember these two from their super adorable, styled engagement session. No? Well, click here and you can see how cute this nurse and firefighter are! (CLICK ME). Their engagement session was a blast, so we knew their Goeglein Homestead Wedding would be too! Read on to learn about […]
Kayleen and Rob are married! You may remember these two from their super adorable, styled engagement session. No? Well, click here and you can see how cute this nurse and firefighter are! (CLICK ME). Their engagement session was a blast, so we knew their Goeglein Homestead Wedding would be too! Read on to learn about all the special details from their big day! Here we go…
The day's events were located at the beautiful Goeglein Homestead in Fort Wayne. This venue offers a ton on a wedding day! From getting ready rooms, to exposed brick walls, this venue has it all! They even have a pretty outdoor area for the ceremony. Kayleen spent the morning getting her makeup done by the wonderful Red Stiletto. After getting ready, it was time for her to put on her dress. Kayleen's bridesmaids surrounded her while her mom helped her into her dress. While Kayleen was getting ready with her bridesmaids, Rob was getting ready with his groomsmen on the other floor.
After getting ready, we took Kayleen and her bridesmaids outside for some wedding party photos. After we finished up photographing the girls, we took Rob and his groomsmen out for some photos too. We love when we get the opportunity to capture some portraits before the ceremony because we see all of the excitement and nerves beforehand. Before we knew it, it was time for the ceremony!
The ceremony was decorated beautifully with grand floral arrangements by Rose's Bouquets, a Fort Wayne wedding only florist. One by one, pairs of bridesmaids and groomsmen walked down the aisle towards Rob. Once everyone was in place, it as time for Kayleen to walk. As everyone stood, Kayleen and her dad walked down the aisle arm in arm waiting to marry her best friend. Kayleen and Rob promised to love each other foreer, kissed, and were married!
After the ceremony, we took some family and couple portraits by the AWESOME firetruck – This is just the cutest little family! We walked around to several locations on Goeglein homestead property, capturing Kayleen, Rob, and their super fun wedding party. They even danced during pictures! This was a very fun bunch of people. After portraits, we all headed inside for the reception in the upstairs portion of the venue: high ceilings, white lights handing from the ceiling, and beams from wall to wall, this venue was stunning! After the wedding party made their grand entrances, everyone took their seats and listened to some awesome toasts from the maid of honor and best man.
After the first dances and a hilarious "his and hers" voting game, dancing started! There were so many friends, family, and kids dancing throughout the evening. We loved capturing this Goeglein Homestead Wedding. We hope you guys enjoy your wedding photos for years to come – Best of luck to your new family and marriage!
Cheers,
– Dustin & Corynn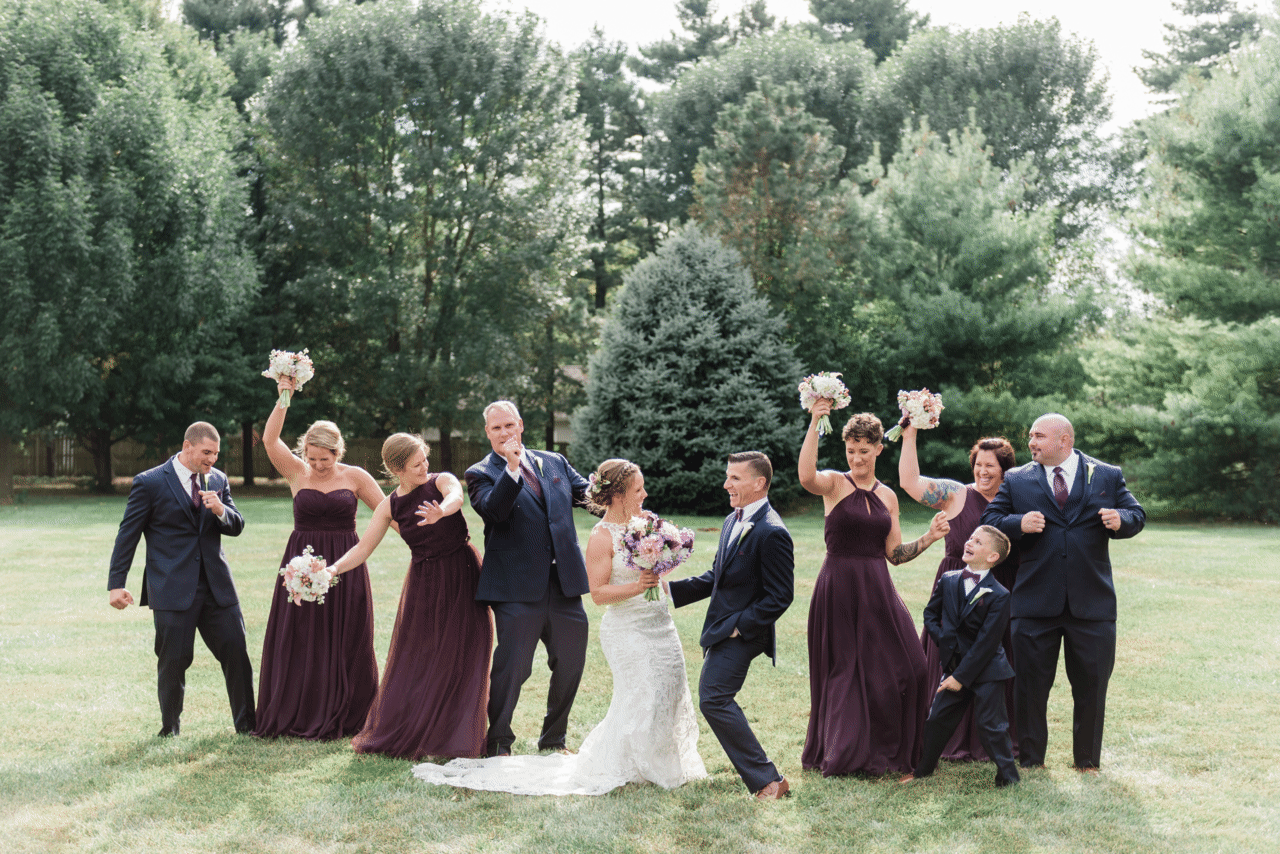 To see more of our couples, click the names below!